Estates at Clairbrook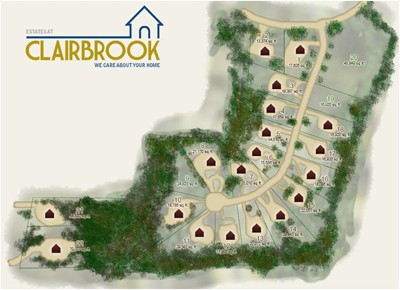 A picturesque custom home community, Estates at Clairbrook is located in the heart of Upper St. Clair. Just minutes from Route-19 and I-79, Estates at Clairbrook offers quick access to Washington County, Pittsburgh International Airport and Downtown Pittsburgh. Only 2 lots remain! Home and lot packages start at $550,000.
NOW AVAILABLE! 1.7 acre Estate Lot. Wooded with private driveway on Morrow Road. No other lot can compare in Upper St. Clair. Contact us to learn more!
Estates at Clairbrook Community
| | | | | |
| --- | --- | --- | --- | --- |
| Custom Home site info | Lot size | Price | Address | Status |
| Lot # 1 | .41 acres | $100,000 | 2300 Southampton | Sold |
| Lot # 2 | .31 acres | $120,000 | 2338 Morrow Rd | Sold |
| Lot # 3 | .44 acres | Spec | 2304 Southampton | Sold |
| Lot # 4 | .39 acres | Spec | 2308 Southampton | Sold |
| Lot # 5 | .34 acres | Spec | 2312 Southampton | Sold |
| Lot # 6 | .36 acres | Spec | 2320 Southampton | Sold |
| Lot # 7 | .46 acres | $120,000 | 2330 Southampton | Sold |
| Lot # 8 | .49 acres | ---------- | 2338 Southampton | Model |
| Lot # 9 | .57 acres | $200,000 | 2342 Southampton | Available |
| Lot # 10 | .43 acres | $120,000 | 2341 Southampton | Sold |
| Lot # 11 | .68 acres | $120,000 | 2337 Southampton | Sold |
| Lot # 12 | .41 acres | Spec | 2333 Southampton | Sold |
| Lot # 13 | .51 acres | $120,000 | 2329 Southampton | Sold |
| Lot # 14 | .68 acres | $120,000 | 2325 Southampton | Sold |
| Lot # 15 | .51 acres | $120,000 | 2321 Southampton | Sold |
| Lot # 16 | .42 acres | Spec | 2317 Southampton | Sold |
| Lot # 17 | .39 acres | $120,000 | 2313 Southampton | Sold |
| Lot # 18 | .39 acres | Spec | 2309 Southampton | Sold |
| Lot # 19 | .39 acres | $120,000 | 2305 Southampton | Sold |
| Lot # 20 | 1.12 acres | $175,000 | 2301 Southampton | Available |
| Lot # 21 | 1.03 acres | $140,000 | 2319 Morton Rd | Sold |
| Lot # 22 | 1.61 acres | $150,000 | 2323 Morton Rd | Sold |
Lot # 23 1.71 acres $325,000 2401 Morrow Rd Available
Testimonials
"Dear John and Konstantin:

The home you built for us is simply amazing! We've been here for 8 years and have loved everything about it. Now that our family has grown so much in the past few years we know exactly who we want to build our next home."
Sincerely,

Jim and Lee Ann McDowell – Southampton Drive, Upper St. Clair


View Larger Map